SPA & Wellness
Offer your SPA & Wellness clientele even more benefits from your treatments.
What determines the quality of SPA & Wellness services?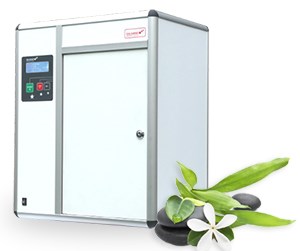 Unfortunately, some SPA & Wellness programmes have begun to include treatments which verge on being mumbo-jumbo. The upshot of this is society's dwindling faith in the efficacy of the sector as a whole. Pseudo centres of this kind, which are driven solely by the maximisation of profits, create absurd theories as regards the treatments administered in their facilities. These baseless concepts mislead and delude the client.
Halotherapy responds to the needs of contemporary society as it grapples with the issues of the growing pollution of the natural environment. Mounting pollution is causing a consistent rise in the number of people struggling with allergy-related problems. One consequence of this is an escalation in incidences of asthma. According to World Health Organisation data from November 2013, there are approximately 235 million people in the world who suffer from this disease. And that is just one of the many allergic illnesses which plague us today.
Halotherapy in the form of dry salt aerosol inhalation has demonstrated an extremely high level of efficacy in clinical studies. As an example, within the first few days of a study carried out on people with an allergy to pollen, a marked improvement was found in 82% of the group receiving dry salt aerosol therapy.
The SALSANO DC-405 halogenerator produces and delivers a dry salt aerosol abundant in healthful, negatively charged particles. Thanks to its selection of themed programmes, it can be used to enrich the atmosphere of small, medium and large indoor spaces.
The word 'SPA' derives from the town of Spa, which is located in the Province of Liège, in Belgium. As far back as the 14th century, people sought a cure for various ailments in the chalybeate waters of the natural springs there.
Spa, or health resort, therapy is a branch of medicine which employs naturally occurring and naturally sourced substances and works to strengthen the human immunological system by stimulating its resistance. And salt aerosol is a time-honoured means of doing so.
Employing the unique and health-giving atmosphere created by the SALSANO DC-405 halogenerator into your SPA & Wellness facility would thus be a continuation of an ancient spa tradition.
Relieve the distress of the army of allergy sufferers and they could well be your loyal clientele for life.