Sanatoria
Does a sanatorium really qualify as a sanatorium if the treatments it offers lack quality?
High-cost treatments mean low profits for a sanatorium. The outcome of this is a reduction in the range of therapies on offer. At the same time, high-efficacy treatments with low running costs are sought.
Halotherapy is just such as solution.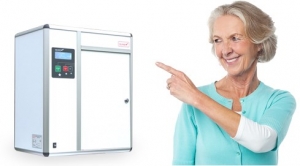 Technological progress means that it is now possible to extend the range of treatments on offer to include therapies which were previously the exclusive province of sanatoria located in places endowed natural resources. The SALSANO DC-405 halogenerator creates an atmosphere rich in salt aerosol and, thanks to its selection of themed programmes, it can do so in small, medium and large indoor spaces.
The opportunity of employing halogenerators has led to above-ground facilities offering halotherapy springing up all over the world.
Stimulative sanatorium therapy acts on the body by way of conditioned reflexes. A course of therapy in a health resort is intended to improve the patient's state of health by applying natural therapeutic agents and physical treatments. The reflexive effect is brought about not only by the use of natural substances in forms such as mineral waters or salt aerosols, but also by the surrounding landscape, the climate and the prevailing weather. All these elements interact and have an influence on the curative process.
In the case of halotherapy, Poland has two natural centres in the former excavations of the salt mines in Wieliczka and Bochnia. An atmosphere rich in salt aerosol can only be created in above-ground facilities artificially and the sole means of doing this is by using a salt-aerosol generator. The aerosol dosage delivered by the SALSANO DC-405 halogenerator depends on the programme setting and the concentration is dictated by the needs of the people receiving the therapy and the nature of the activity concerned.
Until recently, it was only in the world's foremost sanatoria that patients had access to halotherapy rooms.
No expert needs convincing as to halotherapy's extremely high level of efficacy. Wider patient access to this service supports improved public health.
Your sanatorium could also be offering halotherapy.