Inhalatorium Graduation tower
Manufacturer of graduation tower
A standalone type Tężnia inhaler. In contrast to the nineteenth-century solutions of external graduation towers, Salsano graduation towers can be used throughout the year with a precisely set concentration of salt aerosol. The reliable Salsano system guarantees ease of use at very low operating costs.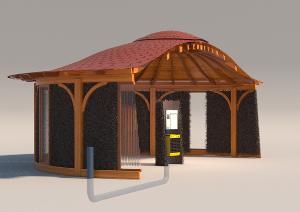 1. Why is the concentration of salt spray in the Salsano graduation tower stable throughout the inhalation cycle?
For the proper functioning of graduation towers it is necessary to ensure proper work parameters throughout the therapeutic cycle, and in particular it is necessary to:
The salt becomes hygroscopic under conditions of increased humidity. This is an undesirable effect from the point of view of the best therapeutic conditions. Moist aerosol particles quickly increase in size, which means that they do not reach the deeper parts of the respiratory system, significantly reducing the effects of halotherapy. The control of air humidity, the external tilting plant is of particular importance due to the changing weather conditions. The technical solutions adopted by us guarantee a stable operation of the Tężnia Inhalatorium throughout the year.
The proper air circulation guaranteeing the proper concentration and distribution of the salt aerosol is carried out with the help of fans. The distribution of the aerosol begins with the central point where the dry salt aerosol is produced. The blower fans supply fresh air, which is mixed by a halogenerator with a high-intensity aerosol of 1-5μm. The aerosol blown inside the graduation tower is directed by means of exhaust fans placed in appropriate places on the external wall. In this way, an even distribution of the aerosol in the entire graduation tower is ensured.
A medical device called a halogenerator is responsible for the production of the aerosol. Dry salt aerosol is definitely safer and more effective than aerosol produced from brine, which is confirmed by numerous clinical studies. Dry salt aerosol does not cause bronchospasm, which unfortunately is possible with brine aerosol, therefore inhalations with dry salt spray do not require the supervision of a doctor. In Tężnia Salsano, a Halogenerator has been used and has a medical certificate issued by the Ministry of Health.
2. In order to ensure the proper concentration of salt spray, proper devices are necessary
3. The advantages of Salsano Graduation Towers

Chcesz kupić lub dowiedzieć się więcej?
Do Twojej dyspozycji są eksperci Salsano.